THE PRIME DIRECTORY-2023 HARD-BOUND VERSION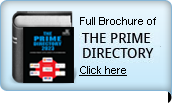 This new edition runs into 1,668 pages, covers 27,296 intermediaries/organisations with their 26,921 addresses, listed alphabetically in 50 sections. Included in each listing, wherever applicable, are:
addresses (both head office and branch offices)
phone and fax numbers and e-mail and website addresses
names and designations of key executives
SEBI registration status and/or date of registration
The Directory is divided into the following 50 sections:
ALTERNATIVE INVESTMENT FUNDS
ASSET RECONSTRUCTION COMPANIES
AUDITORS     
BROKER ASSOCIATIONS     
CHAMBERS & ASSOCIATIONS
COLLECTING BANKERS                                
COLLECTIVE INVESTMENT SCHEMES
COMMODITY BROKERS
COMMODITY EXCHANGES
CREDIT INFORMATION BUREAUS
CREDIT RATING AGENCIES                       
CURRENCY DERIVATIVES
CUSTODIALSERVICES
DATABASES & INFORMATION SERVICES 
DEBENTURE TRUSTEES
DEPOSITORY SYSTEM
DESIGNATED DEPOSITORY PARTICIPANTS
EDUCATION,RESEARCH & TRAINING INSTITUTES
FINANCIAL & INDUSTRIAL DEVELOPMENT INSTITUTIONS
FINANCIAL & INVESTMENT CONSULTANTS
FINANCIAL ADVERTISING AGENCIES
FOREIGN BROKERS
FOREIGN DEBT FUNDS
FOREIGN DEVELOPMENT INSTITUTIONS
FOREIGN PORTFOLIO INVESTORS
GOVERNMENT, REGULATORY & OTHER BODIES
HOUSING FINANCE COMPANIES
INSURANCE SYSTEM
INVESTMENT ADVISORS
INVESTMENT BANKERS                         
INVESTOR ASSOCIATIONS          
KYC REGISTRATION AGENCIES
MEDIA                                               
MUTUAL FUNDS & ASSET MANAGEMENT COMPANIES
NBFCs (RBI APPROVED)
PENSION FUND SYSTEM
PORTFOLIO MANAGERS
PR AGENCIES
PRIMARY DEALERS (RBI APPROVED)
PRINTERS (PRE-ISSUE)     
PRIVATE EQUITY & VENTURE CAPITAL FIRMS
PROXY ADVISORY FIRMS
QUALIFIED CENTRAL COUNTERPARTIES
REGISTRARS & SHARE TRANSFER AGENTS 
RESEARCH ANALYSTS
SECURITIES LENDING SCHEMES
SOLICITORS & LEGAL ADVISORS   
STOCK EXCHANGE BROKERS & UNDERWRITERS
STOCK EXCHANGES
TECHNOLOGY PROVIDERS
THE PRIME DIRECTORY-2023 is available in hard-bound version for Rs.5000.00 + 18% GST
THE PRIME DIRECTORY WEB-BASED VERSION
The Directory is also available on this website. Powerful search facilities are available to allow you to access the desired information. For example, you can see the profile/s of:
any desired organisation across all categories by just entering either its full name or only the first few letters (e.g. by entering DSP, you will get an access to DSP Merrill Lynch Ltd. in the Investment Bankers Section, DSP Merrill Lynch Investment Managers Ltd. in the Mutual Fund Section etc.) or
a desired organisation in a particular city (e.g. DSP Merrill Lynch Ltd. in New Delhi) or
all organisations within a category (e.g. all Investment Bankers) or
all organisations within a category in a particular city (e.g. all Investment Bankers in Mumbai) or
all organisations within a city irrespective of the category(e.g. all organisations in Mumbai)
Another significant feature of the web-based version is that the information on the organisations is updated continuously (and not once in a year as in the hard-bound format). The updation not only covers inclusion of new organisations but also reflects changes in addresses, phone/fax numbers, email addresses and names of key executives.
The subscription fee for THE PRIME DIRECTORY in web based version is Rs.14,500.00. This fee will allow you access for one year from the date of your order.